Back to the Auction Home Page.
"Pierrot - untitled"
Medium
Date
Framed Size
Image Size
Oil Pastel/Ink
1979
20-1/4"H x 17"W
13"H x 9-7/8" W
One of Susan's most beloved subjects, The Fool, (in this painting portrayed as Pierrot, a character of early Italian and French theater), plays with a ball of Dragon String (detailed in Michael Babcock's notes on the piece). The string is made up of an evolutionary progression of creatures - nautilus, fish, newt, dragon and birds. Stars sparkle as the string passes through Pierrot's hand. A wonderful and whimsical work.

This original work has been re-framed with a antiqued, silvered, rustic wood frame, silver fillet and archival double-matted with suede top mat, acid-free backer board & materials and re-glazed with museum conservation clear, Tru-Vue, UV protective glass. Signed by Susan Seddon Boulet bottom right. Dated AUG 79.

Opening Offer: $1,900 USD
Current High Offer: $1,900 USD
High Bidder: tr*****es
Bids
Wednesday, May 29, 2019
1:55:16 AM
$1,900.00
tr****es

The offer period for this piece has ended. Thank You.
In order to provide more detailed picture(s), the graphic below may load slowly, please be patient.
Please note, the originals are of higher detail and nuance of color. Thank You.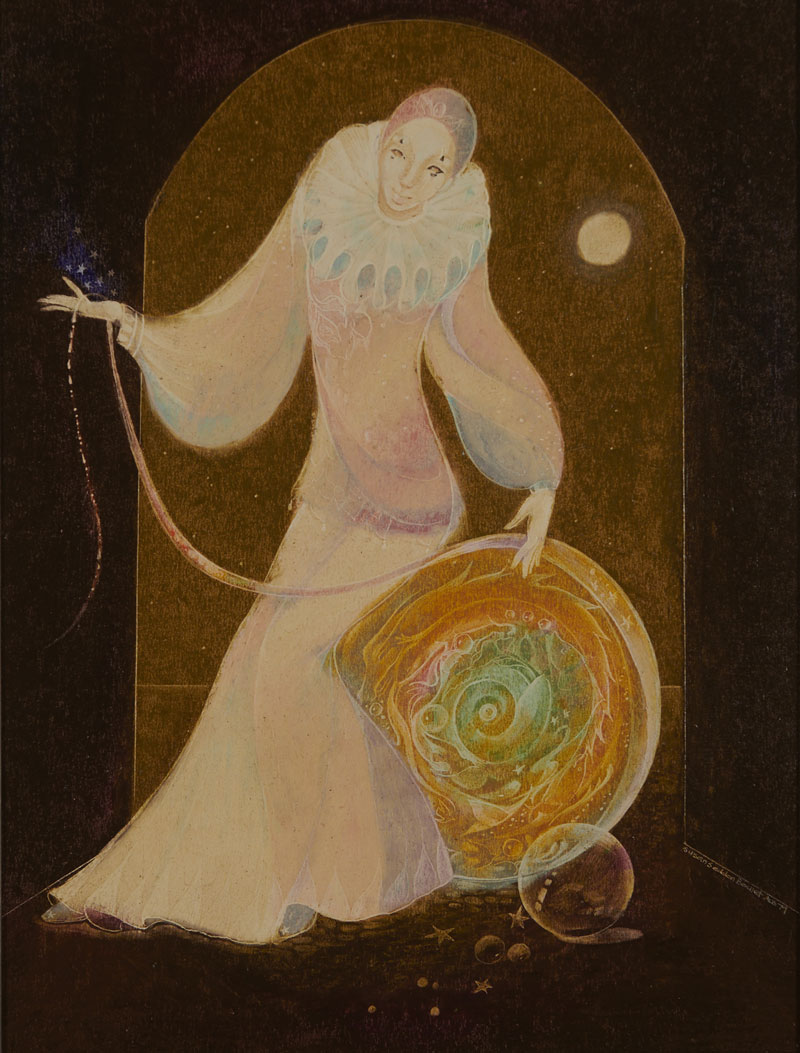 Back to the Auction Home Page.