Back to the Auction Home Page.
"La Belle Dame sans Merci"
Medium
Date
Framed Size
Image Size
Oil Pastel/Ink
1982
14-1/2"H x 12-1/2"W
6-5/8"H x 4-3/4"W
Originally written by a French monk in the 12th century, "La Belle Dame Sans Merci" was later adapted by the English romantic poet John Keats. Susan's depiction of the poem masterfully captures the drama, meaning and emotion of Keats' great work. A reading of the poem will move you more deeply into an intimate and perceptive connection with this wonderful work of art. Filled with detail usually only found in Susan's later and larger pieces.

This original work has been re-framed with an antiqued silver frame, archival triple matted with suede top mat, acid-free backer board & materials and re-glazed with museum conservation clear, Tru-Vue, UV protective glass. Signed by Susan Seddon Boulet bottom center. Dated 1982.

Opening Offer: $2,250 USD
Current High Offer: $0 USD
High Bidder:

The offer period for this piece has ended. Thank You.
In order to provide more detailed picture(s), the graphic below may load slowly, please be patient.
Please note, the originals are of higher detail and nuance of color. Thank You.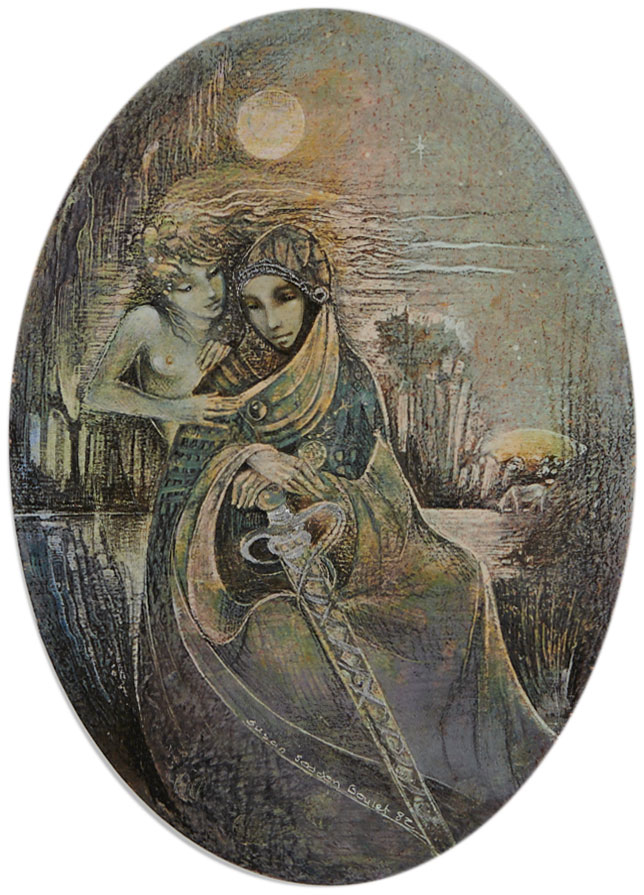 Back to the Auction Home Page.