Back to the Auction Home Page.
"Diana"
Medium
Date
Framed Size
Image Size
Oil Pastel/Ink
1984
21"H x 18"W
10-5/8"H x 8-1/2"W
A rare and important, richly developed early Goddess period work. Illustrated on page 41 of "Susan Seddon-Boulet the Goddess Paintings" by Michael Babcock - published in 1994 by Pomegranate Artbooks. In that text the author describes Diana as "the ancient Lady of the Beasts...a goddess of solitude, comfortable with the wilderness and the great silences of nature"... "a goddess of women...a self-sufficient, free goddess who lives life on her own terms." "She represents the mystic, primitive identity of the hunter and the hunted". This is a powerful representation of the goddess, elegant in its monochromatic presentation. In the distance a lone deer stands almost indiscernible from the trees in the background. A wonderful layering of texture and a early example of Susan's more developed, later work.

This original work has been reframed with a antiqued gilt wood frame, archival triple-matted with linen mats and suede top mat, acid-free backer board & materials and re-glazed with museum Tru-Vue conservation UV protective glass. Signed by Susan Seddon Boulet bottom center. Dated 1984.

Opening Offer: $5,200 USD
Current High Offer: $5,200 USD
High Bidder: my*****ss
Bids
Tuesday, May 02, 2017
12:54:59 PM
$5,200.00
my****ss
To make an offer on this piece, click here!
In order to provide more detailed picture(s), the graphic below may load slowly, please be patient.
Please note, the originals are of higher detail and nuance of color. Thank You.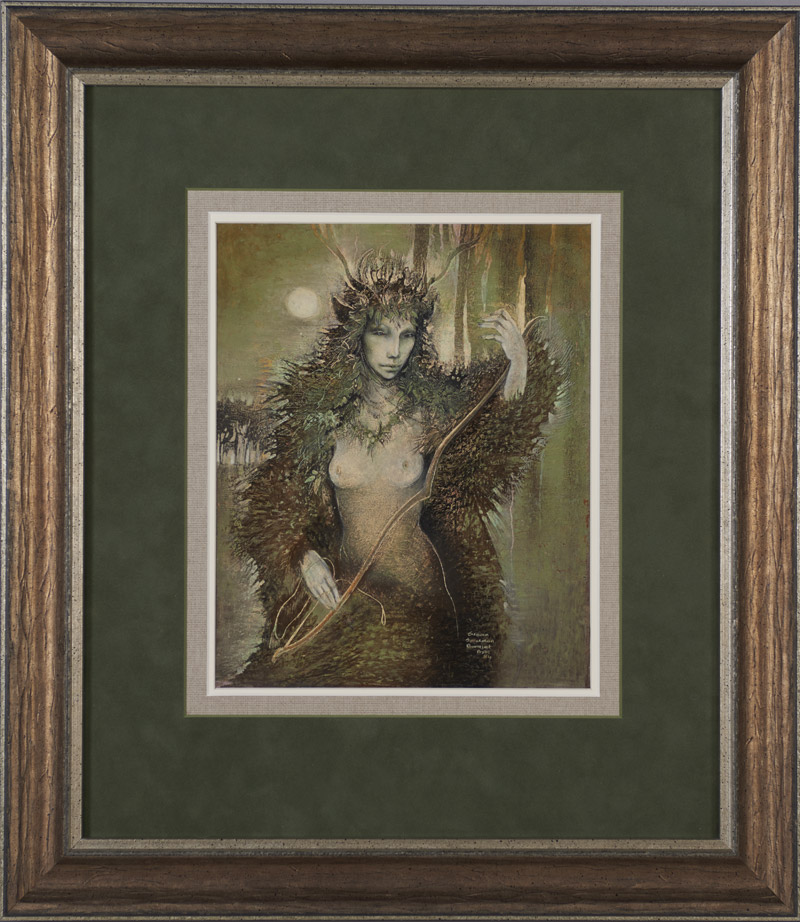 Back to the Auction Home Page.