Back to the Auction Home Page.
"Young Owl"
Medium
Date
Framed Size
Image Size
Oil Pastel/Ink
1991
24-1/2"H x 21-3/8"W
14-3/4"H x 11-5/8"W
An important illustration from "Buffalo Gals Won't You Come Out Tonight" by Ursula K. Le Guin pub.1994,Pomegranate Artbooks). This piece, originally from the estate of Susan Seddon-Boulet, is another very fine example of Susan's "Shaman period" work. In the story, Young Owl appears in "a healing circle", wings crossed holding a feather in his "hand". Behind him an owl woman, stands as witness to the dance. A large, richly developed piece of Susan's later techniques.

This original work has been re-framed with a custom rustic wood frame, archival triple-matted with a textured "bark-like" top mat, acid-free backer board & materials and re-glazed with museum, conservation clear, Tru-Vue, UV protective glass. Unsigned. Undated. Because it is a rare unsigned piece, a certificate of authenticity will be provided from the gallery and Susan's biographer. (Michael Babcock)

Opening Offer: $3,500 USD
Current High Offer: $3,500 USD
High Bidder: tr*****es
Bids
Wednesday, May 29, 2019
1:51:50 AM
$3,500.00
tr****es

The offer period for this piece has ended. Thank You.
In order to provide more detailed picture(s), the graphic below may load slowly, please be patient.
Please note, the originals are of higher detail and nuance of color. Thank You.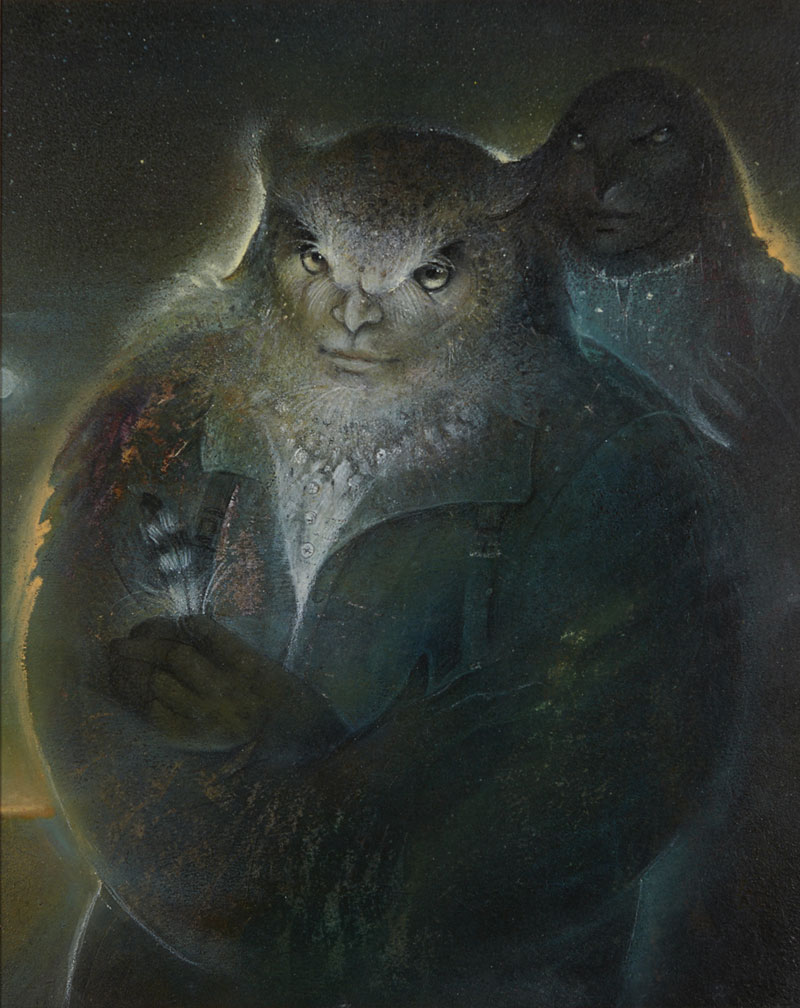 Back to the Auction Home Page.